Main Page
From The Adults Wiki
Welcome to The Adults Wiki, a site dedicated to the collaborative band The Adults. This site is slowly growing, so keep checking in for news, press reviews, songs and other bits and pieces as the site grows into its own skin.
Also check out Shihad Wiki, this site's older cousin for Shihad AND The Adults-related goodness.
If you would like to help out and get an account so you can help edit the site email signup AT (this.domain.name (which is theadultswiki.com)) and you will be sorted out with an account and whatnot. Why do you need and account to edit? Isn't this a wiki? Well having people sign up is in hope to stop vandalism and spamming. If you have links, photos, set lists, info, etc drop them to submissions AT (this.domain.name (which is theadultswiki.com)) and we can put them up here for all to share.
News
21 March - Upcoming shows by various Adults members
There are plenty of NZ shows from Adults members coming up, there are just some of the ones we've spotted:
Julia Deans is playing a free show this Saturday (23rd) at 2.30pm at the Arts Festival Garden in Aotea Square, Auckland.
Anika Moa is playing at St Marks Church, Carterton also on Saturday 23rd. Tickets from Dash Tickets.
Tiki Taane is performing at North Harbour Stadium, as parts of the Sounds On festival in Auckland, on Saturday 23rd, tickets from Dash Tickets, (check out AHoriBuzz while you're there too, you will not be disappointed! Dan Aux is also playing, and he has remixed one or two of The Adults' songs in the past.) Tiki Taane has a New Zealand tour kicking off soon and details are at Tiki Taane's website.
Anika Moa, Julia Deans, Lawrence Arabia, Don McGlashan, Anna Coddington, Louis Baker and Jesse Sheehan will be playing in Devonport, Auckland on April 5 as part of the Support The Vic series. Book at thevic.co.nz or call 09 446 0100.
Jon Toogood & Shihad will be supporting Black Sabbath's shows on April 20 & 22 also in Auckland, and later dates in Australia. The April 20 show has sold out, but tickets are still available for the April 22 show from Ticketmaster.

Also, this website is in dire need of a makeover so if you're a wiki whiz, please let us know on our Facebook page and we can sort out some kind of compensation deal.

Finally, YouTube user Pam Templeton filmed Short Change at Villa Maria Winery a few weeks ago, so thanks to her for capturing the show and The Adults' deeply hypnotic rhythms. Watch it below.
17 February 2013 - Site update (finally!)
The Winery Tour is in full swing, with only 7 shows to go. Catch The Adults perform a reportedly psychadelic-infused set while you can. Details are under the Winery Tour banner ad near the top right of your screen.
Check out all the tour fun on The official Adults Facebook page, read the reviews as they come in on our Reviews page, and read some of the press articles on our Articles page.
Adults Wiki administrators are more active on Facebook/Twitter lately, so check out our Adults Wiki Facebook page for more up-to-date news.

See you on the tour!
5 December - Winery Tour promo video
Jon & Julia speak about the upcoming Winery Tour in this promo piece.
11 November - Julia Deans performing as part of The Sea Shepherd Fundraiser in Auckland on Nov 13
More treats for those in AK-Land:
Julia will be performing as part of the Sea Shepherd Fundraiser on November 13 at the Galatos. The show starts at 8 and tickets are $50, however Julia will most likely be performing after 9pm due to her commitments to the wonderful (and must-see) Brel. Support the Sea Shepherd, and one of the few real efforts to save our whales and our oceans. Details at Under The Radar.
Shayne Carter will be DJ'ing on December 11 as part of the Who Shot Rock & Roll exhibition happening at the Auckland Art Gallery, tickets are cheap ($15). Details at Eventfinda.

And finally, "The Adults with the Christchurch Symphony Orchestra" album was released on November 2, so don't forget to pick up your CD from all good record stores, Mighty Ape, Marbecks, and JB Hi-Fi (support the tragically dying art of physical CDs while you still can)! For those who like their music purely digital, the tracks are also on iTunes.
8 November - Adults collaborator Anika Moa playing a free show tonight in AKL
Another late notice update, but If you're in Auckland & aren't off to support Julia & Jon at Brel tonight (or want to catch some pre-Brel entertainment), Adults collaborator Anika Moa, plus Boh Runga & Hollie Smith, will be performing a free show at 7pm at Shore City Takapuna.
But if you plan on going for a dip afterwards at the beach afterward, the water's still a little on the chilly side... Be warned, and enjoy!
Check Shore City's website for info Shore-City.co.nz.
The trio are also on the Winery Tour circuit, so don't fret if you're out of town. Details for the Winery Tour are below.
25 October - The Adults jump on board the Classic Hits Winery Tour 2013
The Adults will perform on the Classic Hits Winery Tour 2013, alongside Fat Freddy's Drop, Anika Moa, Boh Runga and Hollie Smith. The tour kicks off kicks off at Matakana on Feb 2 and travels to wineries all over the country.

Tickets go on sale from November 5 from the Winery Tour website and from Ticketmaster.
Tour dates:
Saturday 2 February: Ascension Wine Estate, Matakana
Sunday 3 February: Tutukaka Marine Reserve, Tutukaka
Tuesday 5 February: Brunton Road, Gisborne
Wednesday 6 February (Waitangi Day): Church Road, Napier
Friday 8 February: Black Barn Vineyards, Havelock North
Saturday 9 February: Alana Estate, Martinborough
Sunday 10 February: Tui Brewery, Mangatainoka
Tuesday 12 February: Sentry Hill Estate, New Plymouth
Saturday 16 February: The Mud House Winery & Café, Waipara
Sunday 17 February: Forsyth Barr Stadium, Dunedin
Tuesday 19 February: Waitiri Creek, Gibbston
Friday 22 February: Neudorf Vineyards, Upper Moutere
Saturday 23 February: Neudorf Vineyards, Upper Moutere
Sunday 24 February: Villa Maria Winery, Blenheim
Friday 1 March: Wharepai Domain, Tauranga
Saturday 2 March: Villa Maria Winery, Auckland
Sunday 3 March: Mystery Creek, Hamilton
21 October - Toogood on National Radio, and Adults VNZMA nominations
On Saturday Jon Toogood was on National Radio talking to Kim Hill about the upcoming Brel Tribute, working with The Adults, and Shihad. You can listen to it on Radio New Zealand's website.

Also The Vodafone New Zealand Awards nominations were announced earlier in the month. The Adults' self-titled album has been nominated for Album of the Year, and " Nothing To Lose" is up for Vodafone Single of the Year. The awards will be held on November 1 in Auckland at 7.20pm.
If you feel like going along and cheering them on for us, tickets are $25 and are available from Ticketmaster. The Awards include performances by Kimbra, Gin Wigmore, The Black Seeds, Annah Mac, Six60, Home Brew and a special tribute to Legacy Award recipients Toy Love. We believe the Awards will also be broadcast on television.
8 October - The Adults - Live with the CSO being released
The gig that The Adults played with the Christchurch Symphony Orchestra was recorded and 10 songs will be released. This will be as a bonus CD out November 2.
Press Release

LIVE WITH THE CHRISTCHURCH SYMPHONY ORCHESTRA
(Yes Sara's lovely photo was used in the press release can see more of them on the gig's photo page)
On June 1st this year, The Adults joined forces with the Christchurch Symphony Orchestra at the CBS Canterbury Arena, for a one-night only concert performing their entire album, including their hits 'Nothing to Lose', 'One Million Ways' and 'A Part of Me'. Each track was performed as new ensemble pieces, beautifully arranged by Hamish Oliver, Claire Cowan, Steve Bremner & Stephen Small and accompanied by a 48 piece orchestra under the guidance of internationally renowned conductor, Hamish McKeich.
From Friday, November 2, the audio of this now legendary show will be available on, THE ADULTS + LIVE WITH THE CSO. The 2-CD package will include the original album as well as an additional; bonus disc of 10 tracks recorded Live with the Christchurch Symphony Orchestra (CSO) and mixed by Radio New Zealand producer, Andre Upston.
The single from the album, 'Anniversary Day (Live with the CSO)' will be serviced to radio and TV on Monday, October 22nd. See the stunning video here: http://youtu.be/SHKpf6-mSWk
The Adults is the brainchild of Shihad frontman Jon Toogood, joined by industry legends Shayne Carter (Dimmer / Straitjacket Fits) and Julia Deans (Fur Patrol).
'Nothing to Lose', the first single from The Adults' debut album was nominated for a Silver Scroll last year and the band are currently a finalist for two 2012 Vodafone New Zealand Music Awards including 'Single of the Year' and 'Album of the Year'.
THE ADULTS + LIVE WITH THE CSO will be available from Friday, November 2.
27 September 2012 - Brel: The Words & Music of Jacques Brel
Julia Deans and Jon Toogood, along with Jennifer Ward-Lealand and Tama Waipara, Leon Radojkovic and others, take on and interpret the world of Belgian musician Jacques Brel at the Silo Theatre in Auckland from November 1-24.
Read more about the upcoming performances at the Silo Theatre website. Tickets are available from The Edge.

Here's a taste of Brel's music to get you started. One can only speculate as to whether any French will remain in the theatre's adaptation, but there's only one way to find out!
9 July 2012 - Anniversary Day nominated for the 2012 Silver Scroll Awards
Following on from last year's nomination for "Nothing To Lose", this year The Adults' "Anniversary Day" is amongst the finalists for 2012.
Read about the finalists here at The Corner.co.nz.
All the best to the team.
22 June 2012 - CD giveaway comp now active!
I've got 2 copies of The Adults' self-titled CD to give away to anyone who can come up with the best/worst pun involving "The Adults" band name and/or band members' names. So if you want a CD, or know anyone who does, pass the message on.
Competition is open to everyone, no matter where in the world you are. Go to our Facebook page to enter!
13 June 2012 - The Adults to play at Nelson Winter Music Festival on July 14
The Adults are taking their string adaptations to Nelson with the help of La Vida Quartet for the Nelson Winter Music Festival on July 14.
"Innovative & Adventurous Collaboration: After 22 years at the helm of New Zealand's most loved rock band, Jon Toogood had built up a treasure trove of musical connections. Luckily for us they collided in this exciting project for one night only! Jon is joined by Fur Patrol's Julia Deans, Steve Bremner with his orchestral background and Shayne Carter from alternative bands such as Straightjacket Fits and Dimmer for this unique Nelson collaboration with La Vida. Nelson's own vibrant, stylish string quartet is made up of Clare Corban-Banks on viola, Margaret Jackson and Helen Tippler on violin and Kate Sherwood on cello" - Nelson Winter Music Festival website
Earlybird tickets are available now from Ticketdirect for $45, or $75 if you'd like a ticket and a meal at Harry's Bar.

Additional information here:
12 June 2012 - The Adults Wiki is now on Facebook
We've finally joined the Facebook empire. We'll keep you updated, and now and again, I like to give things away. Preliminary giveaway details are on that Facebook page, so if you're interested, have a look. And if you're really keen, you can 'like' us too. The Adults Wiki on Facebook.
29 May 2012 - Parking details for the CSO show on Friday June 1 in Chch
Due to a sports event happening on the same night as The Adults perform with the CSO in Christchurch, streets will be closed and diversions will be in place around the venues. If you haven't already received an email, click the image to the right to find out more.

Tickets are still available from Ticketek here.
24 May 2012 - Your last chance to catch Shayne Carter and Dimmer live
A little late notice, but if you're in Auckland tonight, it's your last chance to see Shayne Carter and Gary Sullivan perform with Dimmer, as the final curtain falls on the band. Dimmer will also be playing Wellington on Saturday night.
Dimmer, 24 May, Kings Arms, Auckland
Dimmer, 26 May, Bodega, Wellington
At the time of writing, online sales are no longer available for the Kings Arms gig and we are unsure if door sales will be available. Tickets available for the Wellington show from Under The Radar.

Also on Saturday, Julia Deans will be speaking at the Q Theatre in Auckland as part of the NZ Music Month Summit. It's free, so make sure you head along.
Q Theatre, May 26, 1.30-2.30pm. More details here on stuff.co.nz.
15 May 2012 - The Adults will be releasing a iTunes only Deluxe edition
The Adults will be releasing a iTunes only Deluxe edition on 1 June. You can pre order at http://itunes.apple.com/nz/preorder/the-adults-deluxe-edition/id527340991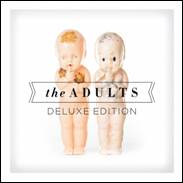 Album:
One Million Ways
A Part of Me
A New Beginning
Reunite
Nothing To Lose
Sleep me Tight
Most Important
Up And Gone
Everyday I Wake Up
Long Way Off
Anniversary Day
Please Wake Up
B-Sides & Remixes:
What People Think
Middle of The Universe Pt.1
Please Wake Up (Misled Convoy Remix)
Long Way Off (Simon Beeston Remix)
Nothing To Lose (Dan Aux Remix)
A Part of Me (Magik Johnson Mix)
Middle of The Universe Pt.2
Nothing To Lose (Optimus Gryme Remix)
Short Change
Videos:
The Making of The Adults
One Million Ways
A Part of Me
Reunite
Nothing To Lose
Up and Gone (Live at the Lab)
Sleep Me Tight (Live at the Lab)
Everyday I Wake Up (Live at the Lab)
A Part of Me (Live at the Lab)
One Million Ways (Live at the Lab)
Long Way Off (Live at the Lab)
14 May 2012 - New video for Reunite
http://www.youtube.com/watch?v=-rmrw7ChrAc&feature=player_embedded
Also rumours of more news on Friday.
May 1 2012 - The Adults on Good Morning, May 1
Julia Deans and Jon Toogood helped start New Zealand Music Month bright and early, with a couple of live acoustic performances and an interview on TVNZ's Good Morning.
Watch it here on the TVNZ website!
The times are current New Zealand Time. You can click on the time or the title to expand the event to get more info. In the expanded view you can double click any URL to open it in a new Tab or Window. The Aussie gigs show up over two days as the calendar is in NZ time, so the Aussie gigs go past midnight NZ time.